Communicating Design in Development
Speaker: Celeste Lyn Paul
There are a number of ways developers try to explain new user interface ideas to the community: ACII art, scanned napkin drawings, Qt designer mockups, annotated screenshots, etc. Some of these methods get the message across better than others. When you try to add details such multiple states, interaction, or animation effects, an image which was meant to help could end up confusing your audience even more.
As a designer, I am often asked which tools I use in order to create mockups or annotate existing user interfaces. Although there are some specialized tools for interaction design, the tools I use the most are every day open source software. There are many tips and tricks on how to use these tools to convey user interface ideas.
This presentation will explain how to use common open source tools to more effectively communicate your design ideas to the community.
Celeste Lyn Paul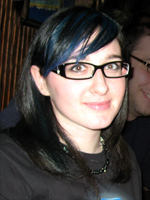 Celeste Lyn Paul is a designer, researcher, and computer geek, although not always in that order. She is an open source design advocate who aims at improving the quality of FLOSS software by education developers about design and working with them on design challenges in their projects. She leads the KDE Usability project, serves on the Kubuntu Council, and organizes the OpenUsability Season of Usability. More information about her can be found at www.celestelynpaul.com.